Have you ever wondered how Amazon.com can quickly, accurately and reliably deliver millions of packages throughout North America? Well, it's likely that your last Amazon purchase was delivered through Key Software Systems' Xcelerator software, powered by MapQuest for Business.
Objectives:

Replace outdated geospatial services vendor with a future-proof provider.
Quickly and seamlessly integrate geospatial APIs into Xcellerator software.
Enable geocoding for route optimization and mileage tracking.
Provide visual mapping capabilities.
Integrate reliable traffic data to maximize driver efficiency.

The Key to 'Final Mile' Deliveries
Dramatic growth in online shopping has accelerated business for hundreds of delivery companies responsible for what is known in the shipping industry as "final mile" deliveries. Large trucks, trains and ships transport goods to centralized distribution centers, where local courier companies receive the goods and transport to the final residential or commercial destination. When millions of packages are at stake, reliable and accurate geospatial data is essential to providing fast and efficient final mile delivery service.
To help thousands of drivers from hundreds of courier companies make their final mile deliveries, Key Software Systems makes a comprehensive courier software system called Xcelerator. The software manages all aspects of deliveries from route optimization to proof of delivery (POD) signatures, photographing delivery locations and more.
A Total Geospatial Eclipse
For years, Key Software used geospatial software from another provider that was considered a standard in the shipping industry. But in 2008, advancements in web technology eclipsed Key Software's geospatial provider into obsolescence, forcing the search for a new solution.
A Seamless Transition
After carefully evaluating every major geospatial services provider, Key Software chose MapQuest for Business. According to Key Software's VP of Sales and Marketing, Patrick Scardilli, "MapQuest satisfied all our requirements more cost-effectively than any other provider, and helped us make the switch quickly and seamlessly."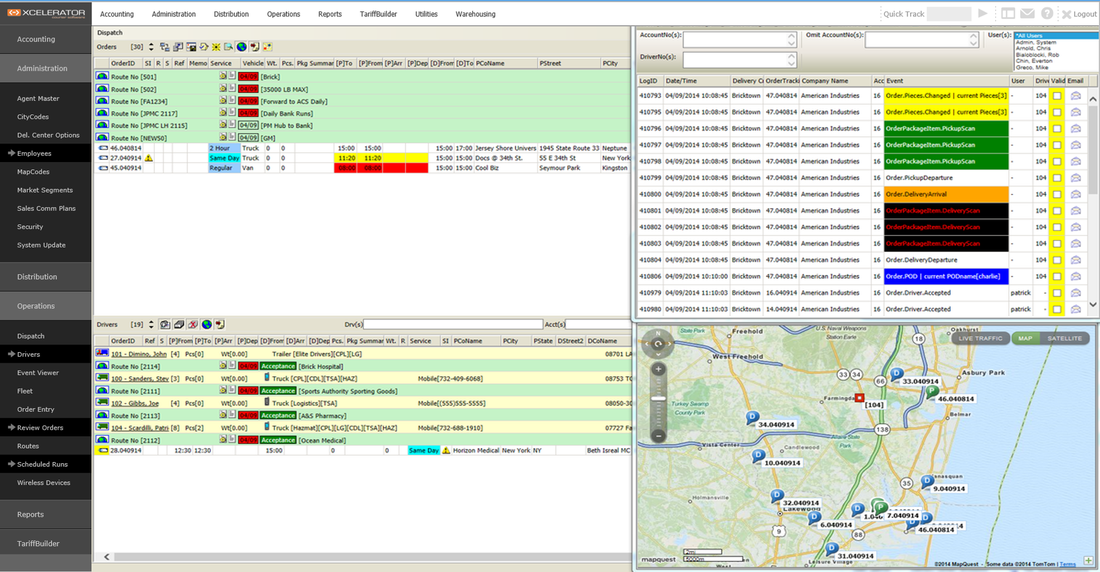 Since making the switch in 2008, the company has continuously leveraged several of MapQuest for Business' APIs to provide essential geospatial capabilities in the Xcelerator software, including the:
Geocoding and Static Map APIs for courier companies to visually track driver locations and package pickup points
Directions API to determine the most efficient pickup and delivery routes
Traffic API to reroute drivers around traffic delays
Geocoding API to accurately track 'door-to-door' mileage
"It's been a great relationship with MapQuest. They've helped drive efficiency through the roof."

-- Key Software Systems VP of Sales and Marketing, Patrick Scardilli
Driving Efficiency Through the Roof
"It's been a great relationship with MapQuest. They've helped drive efficiency through the roof," Scardilli said. "Our customers are extremely happy now because they can audit everything related to their deliveries, thanks to MapQuest. They now have amazing visibility and an audit trail of assets, routes and deliveries, plotting the location of each event on any computer screen or mobile device, providing breadcrumb trails for every delivery."