To ensure MapQuest services are never disrupted after exceeding your plan's monthly transaction limit, we have recently launched our overages feature for those with more than 15,000 transactions per month.

Just like overtime minutes on mobile phone plans, overages allow you to continue adding additional transactions to your monthly limit without lapse in service. After you've reached 100% of your transactions, you'll be billed in 10% increments. Opt in to overages and no longer have your monthly transaction limit lingering over your head.
Tell me more.
We'll notify you in advance. You'll receive emails when you're approaching your monthly limit, once you've reached your limit, and when you go into overages in 10% increments.
You'll be charged 10% at a time. After each 10% increment, you'll be invoiced and the credit card on file will be charged.
It's all done for you. After 150% of your monthly transaction limit, we'll upgrade you to the next tier. If you're on the Business Enhanced or Business Enhanced Plus plan, a MapQuest account representative will reach out to you directly.
You'll be worry-free. During busy times or rapid growth, overages help you control stress by allowing you to use as many transactions as you'd like.
Want to get started? Follow these steps to opt in to overages today:
Log in to your account.
Access the "My Plan" tab.
Under "My Plan," click on "opt in or out of overages."
Toggle "Yes" on Allow overages.
Read and agree to the plan overages terms & conditions. Hit continue.
Success! Your account is now on the overages plan.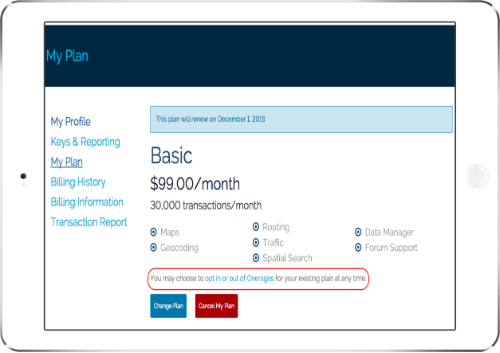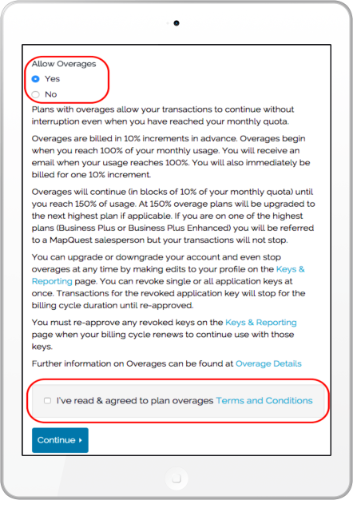 Please feel free to reach out via our forum or email us at developer-services@mapquest.com if you have any questions regarding MapQuest's overages feature.